Djimon
Actor, Founder & Chairman of DHF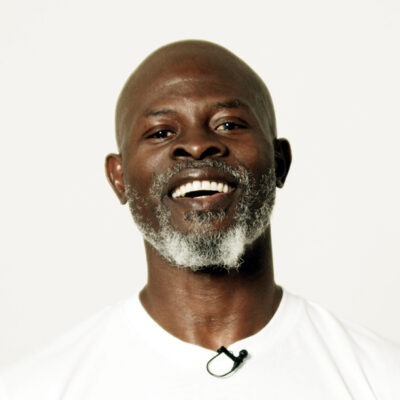 My vision for the Djimon Hounsou Foundation is to champion a visceral connection between the countries of the African diaspora and the motherland and to heal the wounds that slavery left behind.
Djimon Hounsou is a two-time Academy Award-nominated actor for his work in Ed Zwick's Blood Diamond (2006) and Jim Sheridan's In America (2002). He next appears in John Krasinski's A Quiet Place 2 (2020) and Matthew Vaughn's The King's Man (2021).
Born in Benin, West Africa, Hounsou moved to Paris at the age of 13 to pursue a Western education. As an adult, he was discovered by designer Thierry Mugler and subsequently, modeled for and appeared in several iconic music videos for Herb Ritts and David Fincher. Small roles followed before Hounsou's breakthrough performance as an African who leads an uprising to regain his freedom in Steven Spielberg's Amistad (1997, earning him a Golden Globe nomination and a NAACP Image Award). He later shared a SAG Award nomination with the cast of Ridley Scott's Academy Award-winning Best Picture, Gladiator (2020).
Hounsou's film credits also include: Charlie's Angels (2019), Shazam! (2018), Captain Marvel (2019), Guardians of the Galaxy (2014), King Arthur: The Legend of the Sword (2017), The Legend of Tarzan (2016), How to Train Your Dragon 2 (2014), The Island (2005), The Tempest (2010), Constantine (2005), Lara Croft Tomb Raider: The Cradle of Life (2003), and The Four Feathers (2002).
Through Fanaticus, his production company devoted to promoting the stories of Africa, Hounsou recently directed the documentary In Search of Voodoo: Roots to Heaven (2018).
In 2009, he opened the UN General Assembly with a speech about the impact of climate change on developing nations. Hounsou has also appeared before the US Senate on behalf of the Runaway and Homeless Youth Act and participated in a hearing and summit for the International Arms Ban Treaty.
On December 2, 2019, the International Day for the Abolition of Slavery, Djimon announced the formation of the Djimon Hounsou Foundation (DHF) at the United Nations in New York City. Hounsou's nonprofit, which is based in California, aims to reconnect the African Diaspora with the motherland and combat Modern-Day Slavery & Human Trafficking.
Advisory Board
Ambassadeurs
Board Members
Comité Consultatif
Équipe de direction
Management Team
Membres du Conseil
Our Partners
Sponsors